Historical Society (of Greenfield) opening for first time since 2019
By MARY BYRNE
Staff Writer
GREENFIELD — For the first time since its fall 2019 season, the Historical Society of Greenfield is opening its doors to the community.
The museum at 43 Church St., which will be open today from 11 a.m. to 3 p.m., was closed throughout the 2020 and 2021 seasons, according to Meg Baker, secretary of the society. Only recently did the society begin operating on an appointment-only basis for researchers, she said.
"We'll be open for the first time since closing in October 2019," Baker said. "We have some new exhibits and some old ones that have been refreshed."
Among them is an exhibit of items from the estate of Peter Spencer Miller, past president of the society who died in January 2021, and his mother, Helen Spencer Schuhle. There will also be additions to the Dexter Marsh and James Deane exhibit, with new fossils on loan.
"There's also an exhibit tending to the needs of others, which is about early medical care in Greenfield," Baker continued. "It will have medical tools and equipment … and a little bit about some of the people. There were a great number of people in early medical care in Greenfield."
Baker said with COVID-19 case numbers trending upward, the museum opening will start slow.
"Even though we might love to go back to every Friday or every Saturday … we're not there yet," she said.
The society will, however, continue to be open by appointment, in addition to the two Saturdays a month it will
be open for walk-ins. Because the Church Street building is old and doesn't have a great ventilation system, masks will be strongly encouraged.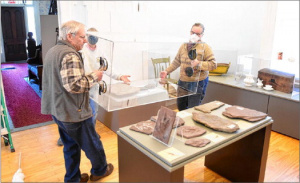 Baker said that over the last couple years, Historical Society members have used the pandemic-related closure as an opportunity to accomplish projects they may not have been able to, otherwise. "The biggest of which is we now have a ramp on the side of the building, so we're more accessible," she said. "Our main operating piece of our mission statement is to share the history with the wider public. We interpret that … to mean accessibility in major ways. Making the first floor entirely accessible has been a big deal."
The pandemic has also offered the Historical Society the chance to strengthen its connections with its community partners, including Four Rivers Charter Public School, The LAVA Center, the Greenfield Public Library and Greenfield Savings Bank.
"It's really been about finding community partners while we were not … hosting guests in the building,
to share our collections," she said. "It's been fabulous. We hope that part of the last couple years continues."
Reporter Mary Byrne can be reached at mbyrne@recorder.com or 413-930-4429. Twitter: @MaryEByrne
From Greenfield Recorder - May 7, 2022 page b1
PDF of article