Signs of the (old) Times, in the Recorder, Jan 24, 2019
Signs of the (old) times
Pop-up exhibit at bank to display memorabilia from Greenfield's past
By RICHIE DAVIS
Staff Writer
Don't let those signs at Greenfield Savings Bank throw you.
All of those references to Threadwell Tools, the Victoria Theater and Toil e t i n e a r e n't meant to disorient anyone, but rather to inspire you look deeper into Greenfield's history.
The occasion is the 100th anniversary of the Franklin County Chamber of Commerce and the 150th anniversary of Greenfield Savings Bank, where the Greenfield Historical Society plans to open a pop-up museum in the bank vestibule.
The idea grew out of a visit last summer to the historical society's Church Street museum by bank Pressident John Howland, who was taken by the collection of vintage business signs, said society board member Meguey Baker. The confluence of anniversaries this year made it seem like "a natural" to create a display at the bank's main branch, consisting of old signs around the bank along with two display cases of artifacts from the musem's collection, she said.
"That gave it an immediacy," she said, combined with the fact that it gives the historical society a chance to display parts of its vast collection while the Church Street museum is on a "by appointment only " basis through April.
The display items at the bank – representing the breadth of businesses in town, but also the range of history – will include everything from Ruggles Ski Shop ski wax and a Brass Buckle mug to a leather purse from Emil Weissbrod and Sons leather goods store, which is believed to have operated on Davis Street in the mid-1800s.
"One of the issues of history is when was it? Where was it? There's always more history to discover," said Baker. "Also, history doesn't stop. We're making history every day."
In addition to drawing more interest to the volunteer-driven historical society, which has 4,000 square feet of exhibits at the museum, she said one of the hopes for the pop-up museum is that it may lead people to consider offering memorabilia, including signs, from contemporary or recent businesses that they may not recognize as part of the continuum of history.
"Greenfield is contuing as a center of business and industry," she said. "We've discovered things we didn't know existed in town."
Examples include a fedora from "R.C. Carson and Son, the Big Store in Mass." or a promotional wooden box marked "Season's Greetings from Frank's Lunch."
There are also classic items like a Luey and Abercrombie pastry bag, memorabilia from the old Toiletine, GTD and Threadwell factories and vintage movie theater signs representing two distinct eras – stage shows and air conditioning – at the Victoria and Garden theaters.
The display, which Baker said should be up around Feb. 1 and be in place at least until June, will show off Greenfield-made Pray and Dyer bricks, Henry Isaacs' "White Mountain Whiskey" bottles and one of her favorite items: the wooden label case used by H.A. Skinner's pharmacy on Federal Street, with drawers full of labels to be affixed to bottles of ether, tincture of iodine and other medicinal and soda bottles.
"The hardest part was deciding what to leave out," she said. "We have so much more. We're looking to find more ways to bring more stories forward.
---
Van Wood and Meg Baker of the Greenfield Historical Society on Wednesday with some of the historic signs and items that will be on display at the Greenfield Savings Bank.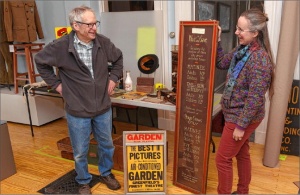 RECORDER STAFF/PAUL FRANZ
Some of the historic signs and items that will be on display at the Greenfield Savings Bank.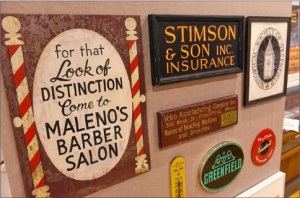 RECORDER STAFF/PAUL FRANZ