GREENFIELD
'He was the biggest wealth of information'
Local historian Peter Miller dies at 82
By DOMENIC POLI
Staff Writer
GREENFIELD — Peter S. Miller, a Greenfield historian known for his collection of local memorabilia and his encyclopedic knowledge of the city's past, died Sunday. He was 82.
The former Historical Society of Greenfield president had been at Baystate Medical Center in Springfield following a stroke, according to niece Michelle Adams, who lives in Jamaica Plain. Due to the COVID-19 pandemic, no services are scheduled yet.
Greenfield Mayor Roxann Wedegartner, who knew Miller for years, said she was saddened to receive word of his death.
"I honestly couldn't tell you the first time I met Peter Miller, but I just know that he was somebody that was sort of … ubiquitous in Greenfield, someone who cared a great deal," she said. "I think his greatest contribution and the thing he is most known for is his in-
SEE HISTORIAN A8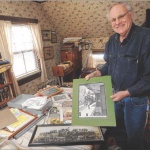 The late Peter S. Miller of Greenfield stands amid a fraction of his voluminous historical collection.
STAFF FILE PHOTO/PAUL FRANZ
Historian
FROM A1
terest in the history of Greenfield. If you ever wanted to know anything about Greenfield or the history of Greenfield, you went to Peter."
Wedegartner, a progressive, said she and Miller, an ardent Republican, often disagreed on state and federal politics, but found common ground on what was best for their small city.
"I think the older we got the more we got along," she said.
John Passiglia, the Greenfield Historical Commission chair, described Miller as a good friend whose dedication to history was unparalleled.
"The loss to the town and this area is just devastating, really," he said. "He was the biggest wealth of information. Anyone will tell you that."
Passiglia said Miller created an inventory of historical homes and was known for helping craft Franklin County railroad calendars, which has been an annual tradition since 2008.
"He was just a really cool character," Passiglia said.
Adams said her uncle was born and raised in Greenfield and had a passion for railroad history because his grandfather worked as a conductor on a train that brought passengers from Boston to Maine. She also said Miller traced his family's genealogy.
"He was pretty obsessed with Greenfield and the Pioneer Valley," Adams said.
She mentioned much of Miller's collections will be donated to Historical Society of Greenfield (Edit: the original article said incorrectly Greenfield High School) and the Pocumtuck Valley Memorial Association (PVMA) in Deerfield. Adams said her uncle wished for as much of his collection as possible to remain in the area.
Tim Blagg was Miller's predecessor as Historical Society of Greenfield president, and said Miller was a passionate collector of ephemera, or paper materials such as posters, letters, maps, magazines and photographs meant to be used, as opposed to preserved. Blagg said he knew Miller through the work at the historical society, a private group with a three-story museum on Church Street.
"(It) is just absolutely jampacked with 'Greenfieldiana,'" Blagg said, adding that Miller donated large volumes to the society's collection. "Both of us spent hundreds and hundreds of hours in that building. He was absolutely tireless in his collecting zeal."
Blagg, a former editor of the Greenfield Recorder, said Miller did a lot of work cataloging the city's cemeteries and served as a trustee of the one on Federal Street, the burial site of Theodore Dehone Judah, a civil engineer instrumental to the design and establishment of the first transcontinental railroad in the 1860s. Blagg said Miller was known to give walking tours of Greenfield and took routine morning strolls, picking up and discarding trash along the way.
"He was extremely civicminded," Blagg said, "and he would give you the shirt off his back." Reach Domenic Poli at: dpoli@recorder.com or 413-772-0261, ext. 262.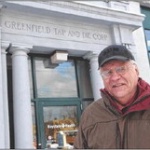 The late Peter S. Miller in front of the Greenfield Tap and Die building on Sanderson Street that is now part of Baystate Health.
STAFF FILE PHOTO/PAUL FRANZ